In our last post, we talked about the need for a universally accepted standard for smart buildings. By standardizing a methodology for assessing and rating smart buildings, we're better able to articulate the value of these properties, promote more meaningful applications of PropTech, and encourage consumer trust.
Our direct experience as AV/IT integrators in New York City's construction industry has shown us that there is a consistent lack of ownership, oversight, and understanding of technology integration in both commercial and residential construction projects. With no technology roadmap and no integration stakeholder, projects routinely run over schedule and over budget. We've experienced how frustrating it is when economic decisions impact the holistic vision and performance of the building because critical components were value-engineered out, simply overlooked, or initially viewed as non-essential.
As architects, designers, lighting specialists, and integrators, we've all dealt with this in our projects. When the decision-makers are stuck in this traditional, value-engineered mindset it ends up producing mediocre and confusing results. Techmenity is working alongside our architect, construction, and design partners to replace a deep-rooted, "Old World" mindset with a new, Future-Ready approach.


Out with old, in with the new.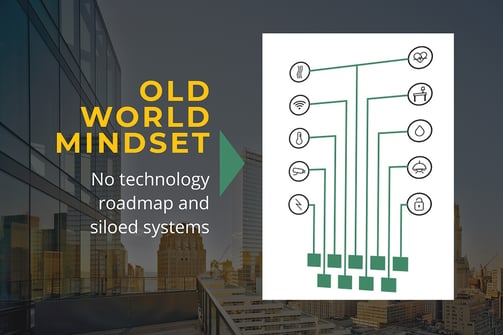 Old World Mindset: ​Propagated By Stasis, Absence of SME, and Decentralized Decision Making around Technology
Without a roadmap to align technology to a purpose and to the people who will occupy a place, other objectives take over. The result becomes a menu of disparate, siloed systems. These types of siloed buildings are not user-friendly because systems management is time-consuming for the facilities teams.
There is a lack of collaboration when it comes to technology. The entire process is disjointed because the sequence of technology decisions is off. Conversations that should have been part of the initial planning meetings, happen at the eleventh hour, producing change orders galore, incurring cost overruns and project delays.
Without a technology integration stakeholder, you have confusion around the ownership and responsibilities of contractors, and no one company is personally incentivized to realize a successful outcome.
There's no central role to verify that the systems are going to perform as intended.
There's a lack of clear expectation setting with clients, so you have frequent misinterpretations. When things start going wrong, everyone is pointing fingers.
Then, of course, you have the practical downsides to siloed systems:
Redundant equipment and wiring are a mess and a waste of resources. (For example, having separate lighting systems/sensors for each part of the building.)
Closed system architecture prevents future integrations and building responsiveness.
Closed systems increase cybersecurity risks because they can't be easily monitored or managed.
Hard to gather data and provide analytics.
All of these things increase CapEx and limit ROI and NOI because there are fewer opportunities to monetize the investment in technology.
The New World
After eight years in the industry, we identified an urgent need for a new role that would bridge the gap between traditional design-build teams and specialized technology trades: Technology General Contractor. An important part of what we do is to educate clients and teams to ensure understanding of how technology influences and unites systems to achieve Optimum Building Performance.
Techmenity brings a Future-Ready mindset to all of our projects. We're always thinking long-term to anticipate challenges and respond to the evolving needs of the project or property. By considering the entire lifecycle of a property, we can future-ready our buildings to stay relevant for generations to come.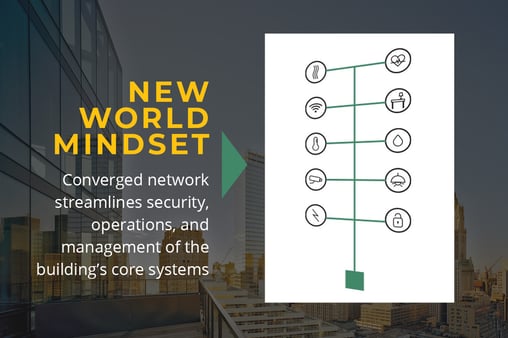 New World/Future Ready Mindset: All teams are focused on ​Optimum Building Performance​
The integrated network in the illustration shows how systems are connected to streamline security, operations, and management of the building's core systems.
The TechGC sets clear expectations with clients and partners through constant communication. This eliminates the possibility for misinterpretation, potential fallout with clients, or conflicts between teams.
If we can streamline we can save on space. By eliminating equipment we reduce capital expenditures. By consolidating cabling we reduce labor costs.
We talked about how fast technology upgrades so it's crucial that we review and analyze design and engineering assumptions to ensure system function upon close-out.
As the TechGC, we make sure that user experience is always top of mind. Integrating power, control, and security on a single network​ improves UX — and also elevates the vision of the architect and designer.
The TechGC will provide insight into the value engineering process to ensure that economic decisions will not impact the holistic vision and performance of the Technology Master Plan and that the architect's vision is successfully implemented and receive full attention throughout to ensure on-time and on-budget delivery.
Last but certainly not least, we make sure that resident/tenant expectations and wellness are given proper weight in decision making. This is part of ensuring the integrity of a building's

purpose

.


Future-Ready Buildings, Homes, and Offices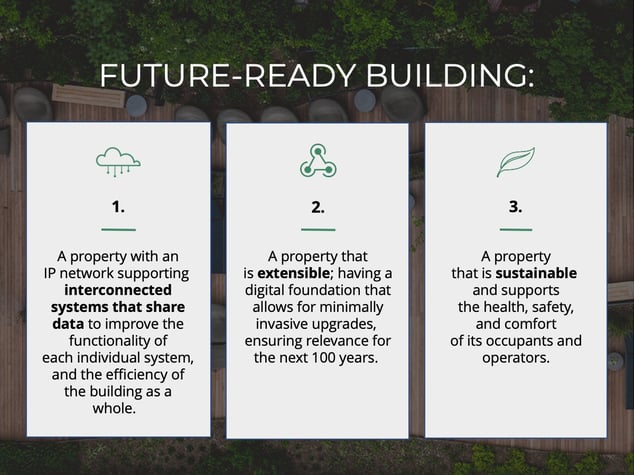 In an age of rapid digital transformation and increasing urgency to improve building health and efficiency, your property needs a future-forward technology plan — and a team that is focused on Optimum Building Performance and occupant well-being.
You hear us talk a lot about the Smart Building but it's important to understand that we approach an office or residential project with the same Future-Ready mindset that we would bring to a large-scale commercial development. Because Techmenity's approach is always centered around purpose and people, our Future-Ready process can be applied to any type of project — from new construction to historic renovation; apartment upgrade to office buildout; multifamily to museum.
No matter the scope, it all starts with the Digital Foundation.
Schedule a call to discuss how we can help you Future-Ready your next renovation or new construction project.
---
This is Part II of our three-part series on Future-Ready Buildings:
Part I: Smart Isn't Enough
Part III: 4 Steps to Building a Strong Digital Foundation