We know you've all had clients who want the 'smart building' but don't truly understand what a smart building really means. And the truth is, 'Smart' isn't enough.
These types of clients like the idea of a smart building, but don't know exactly why they need it or want it. As the Technology Master Planner, it's our job to give clients a macro view so they can understand the differences between smart and Future-Ready.
Establishing a Universal Smart Building Standard


The term "smart building" has been so over-used. Without a universally accepted standard for smart buildings, almost any building upgrade can be called 'smart' for sales and marketing purposes. Much like "all-natural" on a food label, the term has become a marketing gimmick.
This makes it difficult to communicate the tangible, measurable value of these properties.
Without the oversight of a Technology General Contractor, a beautifully designed "smart" project can quickly become a Save-a-Buck building. This "Old World" approach is focused on cost savings and often results in components critical to the vision and Technology Master Plan being value-engineered out. We know how frustrating it is when this happens. Because when those 'smart' upgrades fail to deliver, customers lose faith in the technology, which undermines the entire Proptech industry.
Techmenity applauds organizations like the Smart Building Certification and SmartScore who are paving the way for meaningful adoption and transformation by standardizing a methodology for assessing and rating smart buildings. We want to highlight the importance of the future-proofing element in their definition because we know that without the network infrastructure to support easy upgrades, your building will only be as smart as the technology of today, but not tomorrow. In this age of rapid digital transformation, and with increasing urgency to improve building efficiency and health our properties need to be smart and Future-Ready.
The successful execution of this requires both a new role and a new mindset within the real estate and construction industries.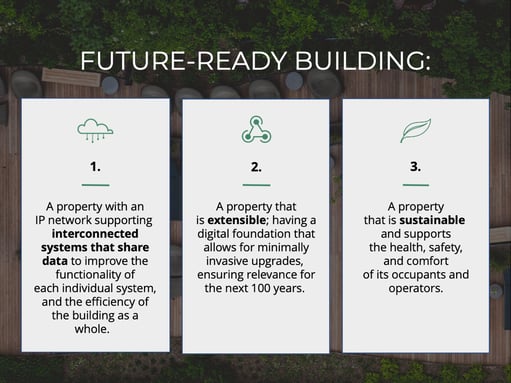 Designing for the Future Starts Now
Techmenity provides long-term staying power for smart buildings by bringing a Future-Ready mindset to every project. We educate clients, developers, architects, designers, and key stakeholders about the types of technology available today, then help them conceptualize what may be available in the future.
Innovations in smart technology are accelerating faster than ever. By conceptualizing a long-term technology roadmap upfront, we're better able to anticipate challenges and accommodate the many technological advances and occupant demands that will occur throughout the lifecycle of your smart building, home, or office. This Future-Ready approach is built upon the network infrastructure, which we call the 'Digital Foundation.'
As the Technology General Contractor, we deliver a Master Plan that is supported by a secure, scalable network that allows for non-invasive upgrades to ensure the property's relevance for its entire lifecycle. Our on-site project manager's role is to deliver your smart building as envisioned. We do this by managing timelines and tech deliverables from the various subcontractors and providing insight into the value engineering process to ensure that economic decisions will not impact the holistic vision and performance of the Technology Master Plan.
We've defined a Future-Ready Building as: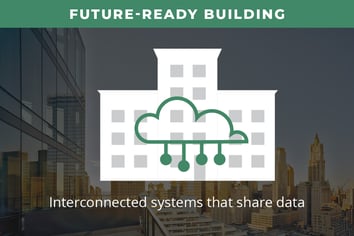 1. A property with a secure, converged IP network supporting ​interconnected systems that share data and accommodate evolving technologies.
We design your network with budget, security, operational efficiencies, and UX in mind.
We assess how the network allows for communication, integration, and control of disparate systems — and how this contributes to the overall building ecosystem.
AI platforms will be a major driver here, providing insights that optimize the operations, economics, and experience of our buildings.
---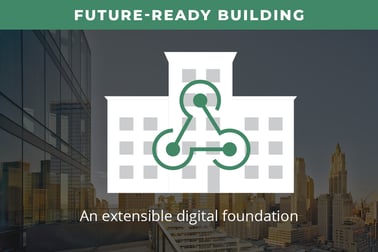 2. A property that is extensible.
We're anticipating future upgrades that the risers, pathways, and network will need to accommodate to allow for easy, minimally invasive updates.
We're also looking through an operator's lens to consider the features impacting them. Here we address the durability, sustainability, performance, maintainability, and serviceability of the property.
As AI applications mature, they will lead the way for buildings to become nearly self-maintaining and will simply alert humans if intervention is required.
---
3. A property that is healthy and sustainable. ​
We're always thinking about occupants and anticipating changing tenant demands to meet their future needs and expectations in terms of health, safety, and comfort.
The pandemic is accelerating the WELL building movement because people have become more aware of the impacts that the built environment can have on our health. Supporting occupant well-being is a fundamental function of a Future-Ready Building.
---
Future-Ready Buildings, Homes & Offices
Bringing a Technology General Contractor into the early core and shell planning stages is essential to building a strong digital foundation for your property. Our Future-Ready approach can be applied to any type of project from mixed-use to single-family because it all starts with the Digital Foundation.
New construction usually sees the greatest opportunity for cost savings because you're building the technology infrastructure directly into the floor plans. But down-to-the-stud renovations are also fertile ground for innovation. We approach our office and residential projects with the same Future-Ready fundamentals that we bring to large-scale commercial developments. Techmentiy's scalable solutions add value at every stage of a property's life cycle; whether renovating your townhouse, developing a new building, or repositioning an existing office space.
Even if you don't decide to fully integrate all of the systems today, investing CapEx in your network infrastructure at the start will allow you to easily and cost-effectively upgrade your building in the future; saving you lots of money (and headaches) down the road.
Schedule a call to discuss how we can help you Future-Ready your next renovation or new construction project.
---
This is Part I of our three-part series on Future-Ready Buildings: